Brownfield Redevelopment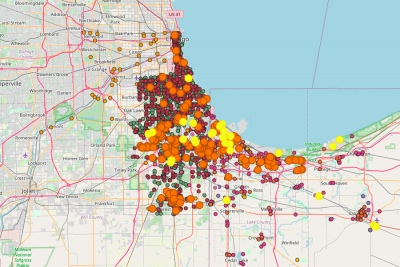 There are more than 460 brownfields on Chicago's Southeast Side and in the south suburbs within Cook County, according to an analysis by a group that promotes the reuse of contaminated sites.
A mapping tool developed by University of Illinois at Chicago researchers for the regional nonprofit group the Calumet Collaborative also identifies in the same area more than 1,370 leaking underground storage locations, more than a dozen hazardous waste sites, nine closed landfills and more than 670 locations taking part in a state environmental cleanup program.
The map also identifies toxic locations across the border in Indiana. In all, the map identifies more than 3,800 toxic sites, most of which are not cleaned up, on the Southeast Side, south suburbs and Northwest Indiana. And while that list includes 18 federal government Superfund sites, some of the country's most challenging hazardous waste properties designated for cleanup, hundreds of other properties may require far less remediation.
"You could see these as no-go areas but you could also see them as opportunities," said Janet Smith, co-director of UIC's Nathalie P. Voorhees Center for Neighborhood and Community Improvement.
from "Toxic sites mapped to promote reuse on Southeast Side", Chicago Sun Times